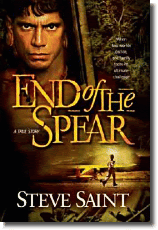 End of the Spear
By Steve Saint


If your life has been touched in any way by the true story of five missionaries martyred in Ecuador in 1956 trying to reach a brutal tribe with the Gospel,
if you've ever doubted whether love is truly stronger than hate,
if you've never seen the transforming power of Christ,
if you want your faith strengthened and challenged, or
if you doubt whether God is able to bring good out of evil, then this is a must read.

End of the Spear was written by the son of martyred missionary Nate Saint. Here Steve tells how completely intertwined his life became with the very ones who murdered his father and the other missionaries. His is a story of heart ache, adventure, forgiveness, and love. "Truth is stranger than fiction" so the saying goes; nowhere is that more evident than in End of the Spear. Even if you saw the movie by the same title (which was poignant in its own right) you need to read the book as book and movie complement rather than detract from each other. Be prepared to laugh, cry, and be totally amazed with our awesome Redeemer.
~ Reviewed by Drewe Llyn Jeffcoat