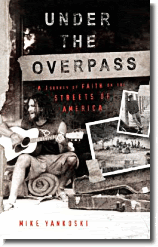 What would God show you, what would He say to you, how would He change you if you forsook your upper-middle class college life to live on the streets for five months as a homeless person? Sounds crazy, doesn't it, to leave all and follow Christ into a dying, lost word?

In the spring and summer of 2003 Mike Yankoski and Sam Purvis did just that. You can read about their life-changing experience on the streets in Under the Overpass.

Prepare to be shaken, challenged, and changed.
~ Drewe Llyn Jeffcoat