On My Christmas Bookshelf - Part 2
Punchinello and the Most Marvelous Gift
By Max Lucado
Illustrated by Sergio Martinez
If you've never read any of Max Lucado "Punchinello" books, then you should go out today and buy some. (Or at least look at your local library.) One day I'll post how these children's books have changed my life. Punchinello and the Most Marvelous gift is another fine edition to this series. All of Wemmicksville is busily working on special gifts to give Eli at the Maker-Day Festival. What happens when Punchinello "messes" everything up? I think you'll agree, it is really a marvelous story about us and what our "Maker" really wants.
Text © Max Lucado 2004
Illustrations © Sergio Martinez 2004
ISBN 1-58134-546-1
A Christmas Carol
By Charles Dickens
I realize this is considered a timeless classic, but, to be quite honest, though I've seen several movie renditions, several parodies, and the play, I've never actually read the book until this year. (I just thought a good homeschooling mom should have read it at least once.)

DD14 and I are reading it together, and while we've needed the dictionary a time or two, we agree is a great read-a-loud that will find its place in our hearts, our "togetherness" memories, and on our Christmas Bookshelf.
http://www.stormfax.com/dickens.htm
Written in 1843
The Velveteen Rabbit
By Margery Williams (1880 -1994)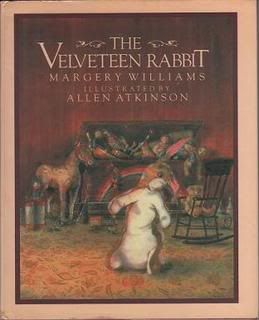 Illustrated by Allen Atkinson
I know this isn't really a Christmas story, but The Boy does receive this special rabbit as a Christmas gift, so I've placed it on my Christmas bookshelf.

What a heart warming story about the imaginings and affections of a small child and what makes a toy "real".

If you've ever had a special stuffed animal or toy, you won't want to miss this delightful read-a-loud.
I really love my copy of The Velveteen Rabbit
© 1983 by Armand Eisen
ISBN 0-394-53221-X
Christmas in My Heart
Compiled and Edited by Joe Wheeler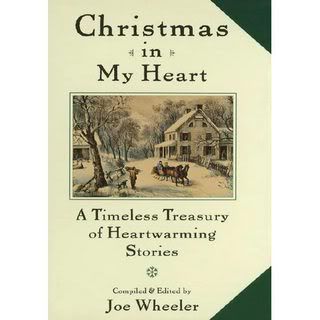 © 1996 by Joe Wheeler
ISBN 0-385-48567-0
Though filled with many heart warming stories, there are four which I'm especially fond of and try to read aloud each year.

They are:
"The Last Straw"
by Paula Palangi McDonald
© 1979
The McDonald mother reaches her wits end with all the bickering and fighting among her four children. When she hits upon a creative way to turn their attention toward the true meaning of Christmas, she finds everyone is a little kinder and the house more loving.

You might be surprised to find out what the last straw really is. But I won't tell.
J
"The Jubilee Agreement"
by Terry Beck © 1990
I choke back tears every year as I read this story. Who can't identify with the mom who loves her family with a passion, but sometimes needs a little time for herself? Or the family that loves her enough to let her go for her "Jubilee"?
by Dina Donohue
© 1966 by Guideposts Magazine
Though it may be a very short story, "Trouble at the Inn" is tall on heart and compassion. You may not read this version of the Christmas story in Luke, but you won't doubt it pleased the Lord.
by O. Henry
© 1906
Has there been any other (save, perhaps, A Christmas Carol) that has sparked more parodies than "The Gift of the Magi"?

Though published in 1906, it remains a timeless story of selfless giving.
Christmas Stories for the Heart
Compiled by Alice Gray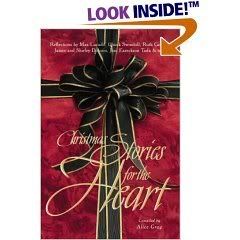 ©1997 by Multnomah Publishers
ISBN 1-57673-456-0
Though filled with wonderful stories, my most favorite from this collection is:
"If You're Missing Baby Jesus, call 7162"
by Jean Gietzen
When a family discovers an extra baby Jesus in their newly purchased Nativity set, they embark on a quest to return Him to His rightful owner.

What they find along the way is that Jesus was never missing, He was right where He was supposed to be.
The Night Before Christmas
By Clement C. Moore
Even though we've never "done" Santa, I must confess, I enjoy the jolly rhyme and beautiful pictures in my copy of this book. It is extra special because the copy on my Christmas bookshelf belonged to my mother when she was a little girl. It is copyrighted 1948 and doesn't even have an ISBN number.