I'm making lots of cool boxes for Christmas this year. (Click here to read more.) Now I will tell you what I plan to put in each one.
WARNING: IF A MEMBER OF MY CHOIR IS READING THIS, STOP NOW OR THE SURPRISE WILL BE RUINED FOR YOU!
Our church has an awesome choir that I am tremendously blessed to direct. Here is a picture of them after our patriotic musical. (The children were flag bearers.)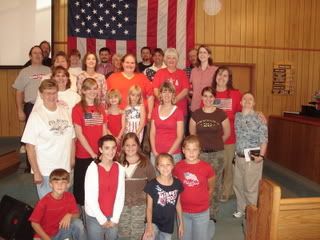 I want to give each of these special people a gift for Christmas, but, as you can see, it could be quite expensive to buy so many gifts. So I'm going to give them the gift of prayer. Here's how it works. I flipped through my Bible and gathered together some Scriptures I wanted to pray. I typed them up turning them into prayers using each person's name. For example:
God,
Please don't allow _____________ to walk in the counsel of the wicked, or stand in the way of sinners, or sit in the seat of mockers. But let her delight be in the law of the LORD. May she meditate on it day and night becoming like a tree planted by streams of water that yields its fruit in season and whose leave does not wither. May whatever she does prosper.
Amen
(Based on Psalm 1:1-3)

I take one person a day and pray the prayers just for that person then add the prayer papers to the box after they have been prayed. The last paper in the box is a poem I wrote:
Dear ________________,
Inside this box all tucked away
Are prayers I prayed for you today.
I went before God's throne of grace
Seeking out the Father's face
For mercy, joy, guidance, peace,
For blessings that will never cease,
Protection as you go your way
And strength enough to meet each day.
For zeal to always live for Him
And never let your light grow dim.
I pray you'll always know it's true
God's loving hands are holding you.
Inside this box all tucked away
Are prayers I prayed for you today.
May this gift remind you of
The Father's ever present love.
(c) 2007 Drewe Llyn Jeffcoat

Love,
Drewe Llyn
Date I prayed for you:
Then I date it and add it to the box.
Here is a list of Scriptures I used:
Jeremiah 29:11, Matthew 5:6, Psalm 51:1-2, Romans 15:13, 2 Thessalonians 2: 16-17, Ephesians 1:17-19, Ephesians 3:16-19, Psalm 91, Proverbs 3:5-6, Psalm 1:1-3, Pslam 19:14, Psalm 20:1-5, Philippians 4:4-8, 13 & 19, Numbers 6:24-26, and for those with children Deuteronomy 5:6-7.

I'm also including a short, handwritten, more personal prayer.
If anyone would like to use this idea along with the poem, feel free. I only ask that you include the copyright information with the poem.
Be blessed!