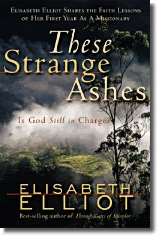 On January 6, 1956, five American missionaries were speared to death in their attempt to bring the Gospel to the Waodani, a brutal Indian tribe located in Ecuador.
Through Gates of Splendor
is the poignant retelling of that story by one of the widows. Later, that widow (Elisabeth Elliot), her daughter, and a sister to one of those killed lived among the Waodoni eventually leading them to Christ.
I don't remember how I discovered this book, but it was my first glimpse into real lives 100% totally sold out to Jesus regardless the cost. It left me awestruck, challenging my own level of devotion to the cause of Christ. It built upon what God had been stirring in my heart with
In His Steps
. I also feel it planted the seeds which eventually grew into my own heart for missions and our family's two year service overseas. In some ways that service was disappointing, leaving me empty. Elliot's
These Strange Ashes
– another incredible book about self-sacrifice- helped me put that experience into perspective which is this: it's all about Christ and my relationship with Him. (These Strange Ashes is a must read for anyone going through a severe time of testing.)
The
Through Gates of Splendor
story has been retold in a new film scheduled to be released on January 20, 2006. My husband and I were privileged to a free screening last night. You won't want to miss
End of the Spear
. It is rated PG-13 due to violence. (Let's face it, spearing to death is not a pleasant thing to watch.) There is also quite a bit of flesh showing, however, if you've read Elliot's
The Savage my Kinsman
you will quickly realize the film covers more flesh than the real tribe did. It is told from Mincayani's perspective. (He's one of the killers.) All the Indian dialogue is in subtitles creating a greater sense of realism. The film is a must see and is evangelical in nature, though not pushy. My only disappointment is that it left, in my view, the conversion of Micayani underplayed. In reality, a church was planted among the Waodani people and Micayani baptized Nate Saint's son, Steve, in the same river where he murdered Steve's dad.
Another outstanding telling of this story is is
Fate of the Yellow Woodbee
by Dave and Neta Jackson. (A trailblazer book and great children's read-a-loud.)
~ Reviewed by Drewe Llyn Jeffcoat