You should know something about me...I love chocolate! When someone does something good I often say, "You deserve a Hershey's kiss. Of course I don't have any because if I did, I'd eat them." Well, one Sunday at choir practice I asked if anyone had listened to the choir music on their CD that week. To those who raised their hands I said, "You deserve a Hershey's Kiss. Of course.... (You get the picture.)" The next Sunday I actually brought some kisses and tossed them to those who had practiced during the week. The next week, before practice began, someone said, "I listened to my CD this week! Where's the chocolate?!?!" I haven't missed a week since. The choir has grown (by the grace of God), but I often joke and say, "My choir will sing for chocolate!"
Bear with me...
A little over a week ago our homeschool group went to Harry the Potter. (This place has nothing to with socery or books, it's just the name of a ceramic/pottery shop.) All my creativity left me as I saw all those blank, ceramic surfaces longing to become beautiful works of art. I finally chose a mug, because I love mugs. (Especially ones filled with hot chocolate or French vanilla cappuccino!) Perhaps it was the thought of a chocolate delight, but I did manage to come up with something I think turned out quite cute.
Drum roll please.....................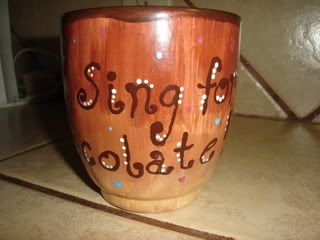 Now I'm afraid to use it! I don't want it to break!