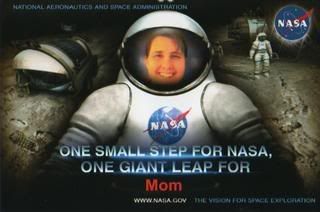 NASA had a display trailer set up outside the Mississippi Museum of Natural Science for three days this week. Since Candace is studying space, I thought it would make for a good field trip. I'll confess I was a little disappointed (which is what happens when one's expectations fall short of reality) in the space exhibit. The really cool interactive floor wasn't working and there really weren't that many interesting things to see. L We did have our pictures made in space suits and received a free pencil. (Well, actually, our pictures were superimposed on a picture of a space suit. Does that count?)
All was not lost, though, as we decided to go into the museum itself and have a look around. Their newest exhibit is Hunters of the Sky. It has to be their coolest exhibit ever. Though all of them were stuffed, there were many very cool looking owls, several eagles, assorted other raptors, and even a California Condor. We saw owl pellets, whole and dissected, real x-rays of wounded birds, and an eagle's nest. There were several interactive stations such as viewing various feather types under a microscope, experimenting with air currents, and trying to identify different raptors. Unfortunately my girls weren't quite as eager to read the wealth of information as I was, but I'm sure they learned a lot anyway.
To me, the coolest thing was the eagle's nest diorama. It was huge! I can't imagine seeing such a sight in real life. I'm sure it would take my breath away. I had wondered where they got the birds since I know the museum staff didn't go out and kill all these birds just to show them to us. One of the plaques said that the baby eagles in the display had been killed in a storm.
Since Candace and I had been reading about owls, it was really neat to see all the different owls right there. And that California Condor! O, my goodness, if I ever saw one of those flying over I'd think the dinosaurs were back. That thing is huge. It is sad to note that the one on display had died from drinking anti-freeze. How tragic!
We pretty much had the place to ourselves which was nice. Though we didn't spend the entire day there, it was really cool. I'm so glad we went. I hope I can go again before it leaves December 30th.
Bonus picture:


Ever see a giant praying mantis made of pine straw?