This..............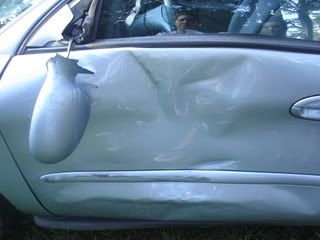 And if angels are with you, you walk away without a scratch or a headache!

My parents came to our town and bought a new car last Friday. They had promised their old one to Cassie (DD16). The windshield was cracked, and since it was still covered by my parents insurance they took it home with them to have it repaired.
On Tuesday my parents headed back toward us to bring Cassie the car. About 12 miles from our house my dad had an accident. An 18-wheeler pulled in behind him on a 4-lane road and clipped his back bumper on the driver's side causing my dad to flip in front of the 18-wheeler and spin 3 times before crossing the median and ending up on the side of the road in the opposite lane. Praise God he wasn't hurt a bit. He said he felt very secure and firmly in place. No airbags deployed. I asked if it was his seat belt or angels holding him tight. He said he felt the seat belt, but he knew there were angels too.
Poor Cassie. After the relief of hearing her grandpa was ok, she was disappointed that she was so close to having her car. (What is Murphy's Law? If anything can go wrong, it will?) Technically, she still has the car; it's just seen better days. It may be totaled. Fortunately, my parents still have insurance on the car and it will either get repaired or they will give her the money to put toward another car.
By the way....the new windshield didn't even have a scratch on it! (A few splatted love bugs, yes. Cracks, no.)